Age UK London is delighted to be a partner in Holobalance – an EU-funded transnational programme taking place over a three year period (Dec 2017 – Nov 2020).
The overall objective of Holobalance is to develop and validate a new personalized programme that will help older people at risk of falling by using a hologram in the form of a virtual coach that will coach, motivate and empower older people with balance disorders. The coaching will involve physiotherapy exercises that one will perform with the help of a hologram, as well as brain training online games and easy to use sensors that can be customised to coach the older person with specific individualised exercises. Holobalance will engage experts including physiotherapists, neurologists, psychologists and gerontologists from across Europe and Age UK London will be user testing the products with older Londoners.
On the afternoon of Monday 25th June 2018, Age UK London invited a group of older Londoners to come to a focus group and see what Holobalance was all about. There were presentations and videos on all of the various elements of the Holobalance programme including showing everyone the Head mounted display, the virtual coach, the projection based holographic display as well as the wearable sensors and devices and what they might look. There were also demonstrations and videos of the concepts of the cognitive training game as well as the auditory training tool. Following each demonstration, Sharon Tynan from Age UK London & Fariba Mostajeran from the Department of Informatics in the University of Hamburg went through the relevant section of a questionnaire with all those that attended. Dr Marousa Pavlou from Kings College London was also on hand and answered many physiotherapy queries as well as giving information about Holobalance and the project overall.
It was great to be able to share this exciting project with the older Londoners and everyone had lots of questions.
49 older Londoners attended – 31 females and 18 males, who came from across 22 different London boroughs including the City of London. Each attendee was a member or affiliated to a huge number of older peoples local groups and organisations across the capital city including Pensioners forums from a number of different boroughs as well as Trustees of local London borough Age UKs and organisations such as local U3A groups, Opening Doors London working with and for older LGBT+, India Welfare Society, Chinese Community Centre and local Healthwatch groups.
Age UK London's Chief Executive Paul Goulden says "Age UK London believes that we can help to change and improve technology by ensuring older people are involved in the early stages of user testing and that Holobalance will be a more inclusive product that works better for everyone, especially the people who need it the most."
Author Age UK London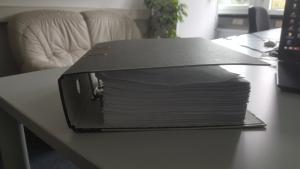 47 participants filled out 99 questions in our questionnaire – photo credits Age UK London and UHAM